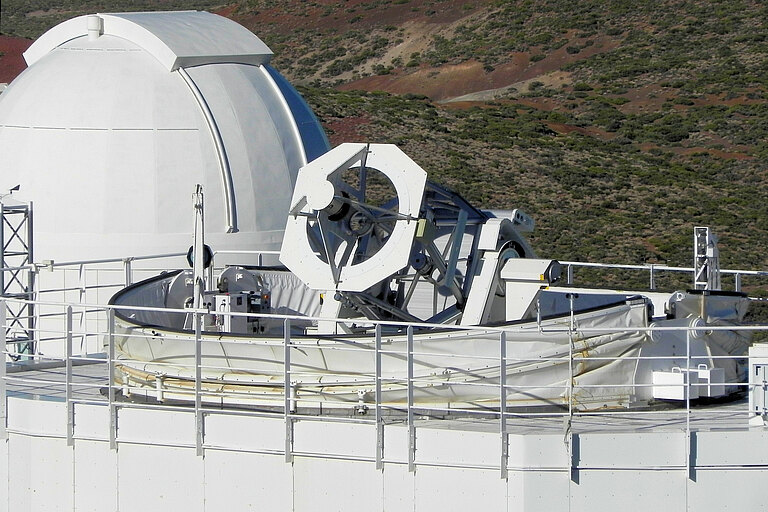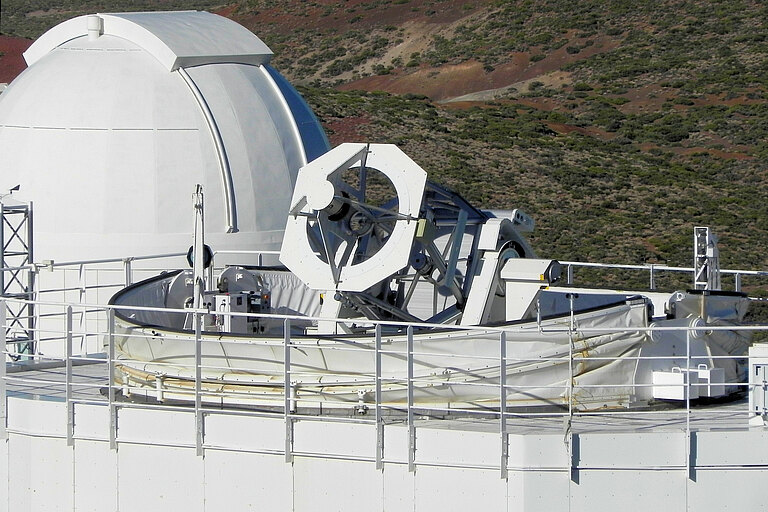 Teleskopstruktur und Kuppel
Das GREGOR-Teleskop ist in vollständig offener Bauweise konstruiert. Dies verhindert die Bildung von internen Turbulenzen, die die Abbildung beeinträchtigen. Die Teleskopstruktur ist eine offene, steife Serrurier-Struktur und hat eine Alt-azimutale Montierung. Die Eigenfrequenz der Struktur ist im Bereich von etwa 12 Hz. Die Oberfläche der Teleskopstruktur ist so gestaltet, dass die Temperaturdifferenz zur Umgebungstemperatur kleiner als 0,2° K bleibt. Die Nachführgenauigkeit ist im Bereich 0,2 bis 0,5 Bogensekunden. Die absolute Positioniergenauigkeit liegt im Bereich von unter 1 Bogensekunde. Diese Eigenschaften bleiben auch bei hohen Windgeschwindigkeiten (bis zu 20 m/s) erhalten. Die Teleskopstruktur wurde im Jahr 2004 auf Teneriffa installiert und danach in Betrieb genommen.
Telescope Dome and Structure
GREGOR has an open foldable dome which minimises local turbulence and dome seeing. The mechanical structure of the telescope is an open, stiff Serrurier with an altitude-over-azimut mount. The self resonance of the structure is about 12 Hz. The surface finish of all parts is such that the temperature difference to ambient air remains within 0.2°C. Tracking accuracy is within 0.2 to 0.5 seconds of arc, absolute pointing better than 1 second of arc, for wind speeds of up to 20 m s-1. The telescope structure was installed in 2004.
The telescope optics is a Gregorian configuration with three powered mirors. The parabolic 1.5m diameter primary mirror M1 has a focal ratio of f/1.7 and is actively temperature contolled to within 0.5°C from ambient air. A cooled field stop at the primary focus F1 limits the field of view to 150 arc sec or 300 arc sec. The remaining sunlight is reflected outside the structure. The elliptical secondary mirror M2 magnifies the primary image at the secondary focus which is about 200mm above the elevation axis. A secondary focus unit contains remotely controlled field stops, a target, and a polarimetric calibration unit. An elliptic tertiary mirror M3 and coudé optics with four plane mirrors (M4 - M8) direct the light beam through the telescope structure and form the tertiary focus F3 at a fixed position in the laboratory underneath the telescope platform with a final focal ratio of f/38 (feff = 55.6m). The alignment between M1 and M2 is controlled via a hexapod on which M2 is mounted. The axial position of F3 can be adjuted by an axial shift of M2 or M3. Image rotation is controlled with a derotator before F3 which introduces another three mirrors (M9 - M11) into the beam.
Instrument Laboratory as of 2020
The instrument laboratory is located in the fifth floor of the GREGOR building, directly below the telescope platform. All post-focus instruments are located here, with the exception of the major part of GRIS in the spectrograph room on the fouth floor. The instrument laboratory was completely reconfigured in 2020 in order to considerably improve the stability and the imaging quality of the adaptive optics relay between F3 and F4. Also, parallel obervations of several instruments in different spectral regimes has been made easier. The replacement of the former toric relay optics mirrors (M12 and M15) by off-axis paraboloid mirrors has eliminated field-dependent aberrations, mainly astigmatism and coma. Imaging between F3 and F4 is now diffraction limited for visible wavelengths throughout the field of view.
The new configuration has the following characteristics:
More space for post-focus instruments and a future multi-conjugated AO system
Horizontal tables for all optics with better stability and much easier adjustment
Arrangement of the wave front sensor following M15, thereby compensating all powered optics
49mm diameter pupil to match existing tip-tilt and deformable mirrors
1:1 magnification between F3 anf F4
Aberration-free image quality within 60 arcsec radius
Exchangeable dichroic beam splitter in front of F4 reflects visible spectral range and transmits IR for GRIS
No reconfiguration of GRIS entrance slit unit required
Small angles of incidence on beamspitters for less instrumental polarization and better polarimetry
Telecentric exit pupil
The existing pentaprisms are replaced by dichroic beam splitter plates with smaller angles of incidence. There are two plates with a transition wavelength of 650nm and 900nm, which allows observing the H-alpha spectral region either with a visible instrument or with an H-alpha channel in the slit viewing system for GRIS.
For more information see GRE-KIS-TN-0019.
GREGOR's control system consists of several modules. Telescope pointing and tracking, the motors on the telescope structure and the M1 cooling are controlled by a system delivered by the manufacturer of the telescope structure. The GREGOR Control System (GCS) provides the graphical user interface for telescope operation, computes ephemerides and generates the low level commands for the telescope control. GCS also controls the derotator and other optical components on the telescope. GCS has received a new GUI in 2019 which unifies many of the formerly distributed functions and makes operating the telescope much easier. The operation of telescope and instruments is done from an observing room on the third floor to minimise human activity in the instrument lab on the fifth floor while observing.
The AO system and the post-focus instruments have separate GUIs and communicate with GCS via a standardised protocol.
Das Teleskop hat eine Gregory-Konfiguration mit drei abbildenden Spiegeln. Der Primärspiegel (f/1,7) ist temperaturstabilisiert (bei 200W absorbierter Leistung soll die Temperaturdifferenz zur Umgebungstemperatur kleiner als 0,5°C sein). Eine gekühlte Feldblende (F1 field stop) begrenzt das Gesichtsfeld auf nominell 150" (maximal 300") und reflektiert das nicht genutzte Licht aus dem Teleskop. Der elliptisch geformte Sekundärspiegel (M2, F/1,29) vergrößert das Primärbild und erzeugt den Sekundärfokus (F2) 200mm oberhalb der Elevationsachse. Eine Polarimetrie Einheit ist in der Nähe der Sekundärfokalebene in der Symmetrieachse des Teleskop-Tubus eingebaut. Ein elliptisch geformter tertiärer Spiegel M3 (F/3,97) bildet den sekundären Fokus mit Hilfe von M4 und durch den Coudé-Strahlengang (M4, M6, M7) in das Optiklabor auf den tertiären Fokus (F3) ab. Die Justage zwischen M1 und M2 erfolgt mit einem Hexapod, auf welchem M2 montiert ist. Zur Fokussierung beim tertiären Fokus F3 kann der Spiegel M3 axial verschoben werden. Die Bilddrehung, verursacht durch die alt-azimutale Konstruktion, kann durch einen in den Strahlengang hinein bewegbaren Derotator mit drei Spiegeln (M9 - M11) kompensiert werden.
Instrumentenlabor ab 2020
Das Instrumentenlabor befindet sich im 5. Obergeschoss des GREGOR-Gebäudes direkt unterhalb der Teleskop-Plattform. In ihm befinden sich alle Postfokus-Instrumente mit Ausnahme eines Teils des Spektrografen GRIS, welcher im 4. Obergeschoss aufgebaut ist. Das Instrumentenlabor wurde 2020 komplett umgebaut, um die Stabilität und die Abbildungsqualität der Adaptiven Optik erheblich zu verbessern. Damit wurde auch der parallele Betrieb mehrerer Instrumente für verschiedene Wellenlängenbereiche erleichtert. Der Ersatz der bislang torischen Kollimator- und Kameraspiegel der AO zwischen F3 und F4 (M12 und M15) durch außeraxiale Parabolspiegel derselben Brennweite eliminierte eine Fehlerquelle, welche feldabhängige Bildfehler (Astigmatismus und Koma) erzeugte. Diese Abbildung ist jetzt beugungsbegrenzt im sichtbaren Spektralbereich. Diese Konfiguration hat folgende Eigenschaften:
Mehr Platz für Postfokus-Instrumente und eine zukünftige multi-konjugierte Adaptive Optik
Horizontaler Aufbau der Relay-Optik der AO mit verbesserter Stabilität und einfacherer Justage
Wellenfrontsensor nach M15, dadurch Korrektur der Aberrationen aller Spiegel mit Brechkraft
49 mm Pupille gesetzt durch aktiver Fläche des deformierbaren Spiegels
1:1 Abbildung zwischen F3 und F4
Perfekte Abbildung im F4 über einen Radius von 60"
Dichroischer Strahlteiler nach M15 reflektiert den visuellen Spektralbereich, der infrarote Bereich propagiert weiter zum GRIS
Kleine Einfallswinkel verbessert Polarimetrie
Die Konfiguration des Eintrittspalts von GRIS und der Spaltbeobachtungsanlage bleiben erhalten - kein Umbau von GRIS
Telezentrische Austrittspupille
Die Verwendung einer dichroischen Strahlteilerplatte anstelle der bisherigen (aufwändigen) Pentaprismen erlaubt kleinere Einfallswinkel für bessere Polarimetrie. Es besteht die Möglichkeit, dichroische Strahlteiler mit einer Separationswellenlänge von 650nm oder 900nm einzusetzen, um eine Beobachtung der H-Alpha-Linie entweder den visuellen Instrumenten oder der Spaltbildanlage von GRIS zur Verfügung zu stellen.
Weitere Informationen findet man in dem Bericht GRE-KIS-TN-0019.
Das GREGOR Teleskop-Kontrollsystem besteht aus verschiedenen Modulen. Nachführung, Steuerung der Antriebe, Kühlung des M1 werden von einem System gesteuert, welches vom Hersteller des Teleskops geliefert wurde. Es empfängt die Befehle zur Positionierung und Nachführung vom GREGOR-Kontrollsystem (GCS). Das GCS ist das Graphische User Interface (GUI) für den Benutzer. Es rechnet die Koordinaten für die Nachführung aus, die durch die Position der Sonne am Himmel und des gewünschten Beobachtungsausschnittes auf der Sonne bestimmt werden. Das Kontrollsystem steuert auch die Bewegungen des Bildderotators und anderer optischer Komponenten im Strahlengang des Teleskops.
Das GCS erhielt 2019 eine neue Benutzerschnittstelle, welche viele Funktionen vereinheitlicht und den Betrieb des Teleskops sehr vereinfacht. Das Teleskop und die wissenschaftlichen Instrumente werden mit dem CGS von einem Kontrollraum im 3. Obergeschoss gesteuert. Während des wissenschaftlichen Beobachtungsbetriebs ist der Aufenthalt im Instrumentenlabor im 5. Geschoss unerwünscht, um Störungen zu vermeiden.
Die adaptive Optik und die wissenschaftlichen Postfokusgeräte haben eigene graphische Benutzer-Schnittstellen und können mit dem GREGOR Kontrollsystem über eine standardisierte Kommandosprache kommunizieren.